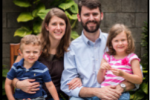 Serving with:
United World Missions
Background:
Andrew and Julie both felt they were called to missions during their time in Seminary at Columbia International University. They knew that they were interested in working in Latin America but were not sure exactly what type of ministry and were open to a number of locations.
Ministry:
In 2013, Andrew and Julie confirmed a call from United World Mission after a vision trip to Costa Rica. They both sensed that ESEPA Seminary and San Jose was exactly where they Lord wanted them and they arrived to serve in June 2013. Andrew is now the Director of the seminary, equipping of pastors and lay leaders for the work of the Lord has called them to. He continues to teach various classes during each semester. Julie is currently working on language acquisition. Additionally, she tries to develop relationships with women in the neighborhood that will provide opportunities for conversation. She is also busy at home being a full-time mother to Ann Renee and Ryan.
Prayer Requests:
For God's provisions in our support raising efforts
Wisdom regarding our travel schedule
Pray for good health, a continuous struggle

Pray for Andrew's adjustment to a new degree program and dissertation topic

Pray for Julie's teaching of weekly Refit classes and for the encouragement of the ladies involved