Denominationalism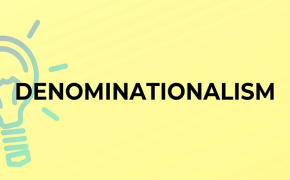 Next week we will join hundreds of other PCA elders at our denomination's 48th annual business meeting. It is an honor and delight to be denominated with the PCA...
The very word denomination is odd, isn't it? This word can compel otherwise happy religious people to loosen the strings on their gloves (i.e. prepare for a hockey fight). This word can also compel non-religious people to roll their eyes and find another table at the food court. It's an odd word.
The word literally refers to naming something or someone. To denominate is to give yourself a name that matches others, to be named like others. It's a fellowship word, really. In a (mostly) inoffensive way, a denomination is simply a voluntary association of people who want to be aligned as a team, distinct from other teams. But you can see how this can easily offend, like Mac people trying not to be confused for PC people, and PC people taking offense. It works the other way 'round too. In an unavoidable way, to denominate with others is at the same time also drawing swords against those you've denominated as "not belonging." To denominate my team is denominating every other team as well.
The sheer logic ought to convince us that all human-made organizations are unmistakably and inescapably human. This presents a problem because all humans are sinful and even the humans regenerated by the Holy Spirit continue to be hounded by indwelling sin, the world, and the Devil. Denomination-making is sure to have kinks every now and then.
I want to thank you for allowing your pastors to participate fully in the life of our humble, human-made denomination: the PCA. If being a part of a church denomination is new to you, welcome. I had never been a part of a church denomination until I attended a denomination-governed seminary. Most Protestant churches in America are independent (no claim to a denomination), but even individual churches can be somewhat of a denomination unto themselves. As you've surely already discovered, you can learn more about the PCA online (pcanet.org). You can also take advantage of our own Essentials Class. You can also meet with any of our pastors to discuss the PCA. The phrases engraved on the sanctuary? That is the PCA motto: faithful to the Scriptures, true to the Reformed faith, obedient to the great commission.
Next week Pastor Bennett and I, along with Elder Adam Sanders, will join hundreds of other PCA elders at our denomination's 48th annual business meeting. Our pastors thank you for permitting us to attend. It is an honor and delight to be denominated with the PCA, to join with others in contending for the faith once and for all delivered to the saints (Jude 3), to confess before others the good news (1 Timothy 6.12), and stand firm in it together (Philippians 1.27).
A couple of weeks ago Pastor Bennett wrote to us in anticipation of General Assembly, not just the business at hand but also of the flurry of commentary in the weeks to follow. Just so you know, during the various proceedings of General Assembly, I will be thinking about the London pastor John Newton, author of Amazing Grace. Newton enjoyed a wonderful letter-writing ministry. One of those was called, On Controversy. He was responding to a minister engaged in a written debate with another minister. Having looked again at Newton's letter (which you can find at ligonier.org/blog/oncontroversy/), during the meetings of our beloved denomination, I'll be thinking this . . .
About my potential opponents: "In a little while [we] will meet in heaven; he will then be dearer to [me] than the nearest friend [I] have upon earth is to [me] now. [I will] anticipate that period in [my] thoughts; and though [I] may find it necessary to oppose his errors, [I will] view him personally as a kindred soul, with whom [I am] to be happy in Christ forever."
About the watching public: "… generally speaking, [controversies] are productive of little good. They provoke those whom they should convince, and puff up those whom they should edify. I hope [our] performance will savor of a spirit of true humility, and be a means of promoting it in others."
About myself: "The wisdom that is from above is not only pure, but peaceable and gentle; and the want of these qualifications, like the dead fly in the pot of ointment, will spoil the savor and efficacy of [my] labors."
~ John Jones