Operation Christmas Child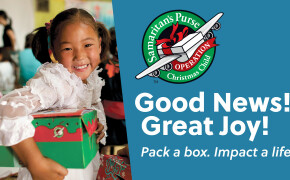 Yves' mother was pregnant with him when neighbors tried to kill them in Rwanda. He was born in a refugee camp in the Congo. More conflict forced his family to Kenya and finally to Togo. Though his father was a pastor, he hated people because of what had happened to his family. His village was heavily influenced by witch doctors who would not allow people to attend church, and many of the children could not attend school because they had no school supplies. So, when Operation Christmas Child (OCC) presented boxes at the church, many people defied the witch doctor so their children could attend and get supplies and gifts. The pastor preached an emboldened sermon and the villagers were shocked to hear about this amazing God who loved them. Many became believers, eventually even the witch doctor! Three churches were started! Yves also received a shoebox gift including a wool winter scarf! He was amazed that people from far away could love him and send him gifts. Though it is very hot in Togo, he saved the scarf. Three years later, after MANY years of waiting, his family received refugee settlement to Buffalo, New York! He needed that scarf then. God showed him that He knew Yves' past, present, and future, and He loved him, providing for him. God used the gift to melt Yves' heart that had once hated people to now love others and serve God.
Yves is one of millions of kids who have come to know Jesus and had their lives changed as a result of receiving a shoebox gift and hearing about Jesus and His love. This year, CPC once again has the privilege of participating in OCC by packing shoeboxes and donating items for our packing day on November 23. Our goal this year is 300 boxes. We will be giving out boxes in the lobby the next few Sundays, along with packing information. If you are willing to pack a box, please take one (or several)! Include school supplies, soap, toothbrush, toys, and other items the Lord lays on your hearts. Don't forget to include a note telling them that Jesus loves them and include the $9 for shipping costs. Be sure to pray for the children who will receive the boxes. If you are unable to pack a box, you can donate shoebox items outside Eric's office and/or give money to help with shipping costs. Also, you are all invited to our Packing Day on November 23, from 9:00 a.m. to Noon.
In addition, this year, CPC is very excited to be a Shoebox Drop-Off location! This means we need a lot of help. We are opening at least two hours every day during Collection Week (November 18-25). We are the only drop-off location on the east side of Chattanooga, so we are going to be busy. We need 4 to 5 volunteers daily that week – greeters, cartonizers, data collectors, people available to pray for those who come, and people to pray over the boxes and other helpers. We also need some help with pickup trucks that can transport the cartons of shoeboxes to the regional drop off site at Red Bank Baptist on Wednesday (11/18), Saturday (11/23), and Monday (11/25).
We can use all ages, including families with kids and youth, along with older folks. Everyone can lend a hand. You can sign up at the Welcome Center in the Lobby or in your Sunday School classes. There is also a 30 minute training available. Come and join us in this great mission opportunity for Covenant to reach our community and these precious children worldwide. (More OCC inspirational stories can be found in Franklin Graham's book, Operation Christmas Child.)
~Judy Foster