Gifted by Christ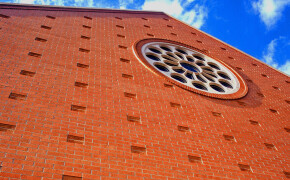 "But grace was given to each one of us according to the measure of Christ's gift. Therefore it says, "When he ascended on high he led a host of captives, and he gave gifts to men."
Ephesians 4.7-8
When the Apostle Paul addressed the church in Ephesus, he purposefully misquoted Psalm 68.18. Paul, who was teaching the values of the kingdom to this divided group of Gentiles and Jews, emphasized Christ's love for His Church. Wherein Psalm 68, the Lord receives gifts from men, Paul expounds the love of Christ to give gifts to men. What are these gifts? They are people. Paul specifically refers to leaders and pastors in Ephesians 4.11. Paul was emphasizing the importance of being built up together in God's Word. As a church, we can also give thanks to God who gives good gifts to His people, as His people. In this, it is a privilege to share a few updates on staffing gifts to CPC that we have received from the Lord.
First, thank you to the many who have been praying and sharing insights into the process of hiring a new Facilities Director for our church. After a series of applicants and interviews, it is my pleasure to share with you that Mr. Tony Horton will join the CPC staff as our new Facilities Director beginning November 1. Tony has been a part of CPC for many years. He has served amongst us as both a deacon and an elder in our church. Vocationally, Tony has served the facilities of Girls Preparatory School (GPS) for 29 years. During that time, he has serviced the 330,000 square foot campus in all aspects of facilities needs, from HVAC to cleaning. Tony brings a wealth of knowledge and experience to this role, and we are excited he will be using his gifts to serve our church on a daily basis.
In addition to our Facilities Director, CPC has recently promoted Nicky Lewin from her role of Wednesday night meal coordinator to our Kitchen Services Coordinator. Nicky's new position makes her the primary contact and coordinator for the kitchen at CPC. Her role is to ensure the kitchen is well stocked with inventory and supplies, properly cleaned and properly used. Nicky has already been helping the church categorize what we have and working towards organizing how we can utilize our kitchen and its equipment more efficiently. This means that if you have questions about the kitchen or a need the church can assist in, she is the contact person. Nicky can be reached at
Lastly, this fall, Andrew Luchenbill has joined our staff as a Youth Intern for this Fall and Spring Semesters. Andrew is a senior at Covenant College, where he is majoring in Biblical Studies. His father and grandfather are PCA pastors, and the Lord is now leading him into pastoral ministry. He already has experience serving as a youth intern at other churches, including Village Seven Presbyterian Church in Colorado Springs, CO. Andrew plans to begin a pastoral internship, along with seminary classes, through Village Seven in the summer of 2020. We are grateful Andrew is using his gifts and caring for our CPC Youth!
Through these staffing adjustments, I'd ask that you continue to pray for our CPC staff. It is the Lord who produces healthy growth through the life of the church. Paul continues in Ephesians 4.15-16, "Rather, speaking the truth in love, we are to grow up in every way into him who is the head, into Christ, from whom the whole body, joined and held together by every joint with which it is equipped, when each part is working properly, makes the body grow so that it builds itself up in love." May this growth be true in our midst, as well as, at CPC.
~Pastor Bennett