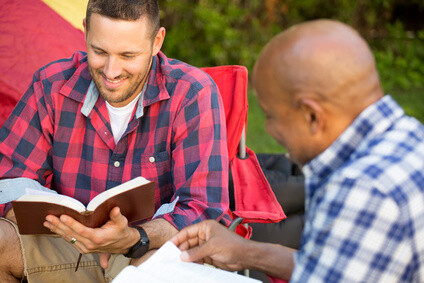 The CPC Men's Ministry strives to offer a variety of small group opportunities for men of all ages. The goal of these groups is to encourage and challenge our men to be Christ-like in every area of their lives.
Men's groups meet in various locations most mornings of the week, as well as, each Wednesday evening there is a men's group available at the church. To search for available Men's Groups, please visit the Small Group Finder Page.
A men's breakfast meets the first Saturday of the month at 8:30 a.m. at the church.
If you would like help finding a "Paul or Timothy" mentor, please contact Dee Hobbs at or Jason Coffey at . We would appreciate the opportunity to assist you.
MEN'S MINISTRY RESOURCES
We would like to offer you some articles and resources we have found valuable and useful in our ministry. Please visit our Men's Ministry Resources page.
You can also listen or watch recordings from our Men's Breakfast meetings by visiting the Men's Ministry Event Recordings page.
MISSION STATEMENT
The CPC Ironman Ministry helps to provide men with the tools necessary to be a mature disciple of Jesus Christ in every area of life through intentional prayer, accountability, study, and fellowship with other men.
CORE VALUES
Recognizing the necessity of God's grace in his life and the insufficiency of his own efforts, a man at CPC will strive to:
Worship God in a pleasing manner
Pray for the work of the church and its members
Study God's word actively
Confront his sin intentionally and openly seek forgiveness and reconciliation
Handle his finances in a Godly manner
Be sexually pure in thought, talk, and deed
Minister to and serve others, both inside and outside the body
Make Christ the center of his household in his relationships with his family
Fellowship frequently with other men in the church
Hold other men accountable for these actions
Pull in/evangelize to those outside the body of Christ