Hope Was Running Dry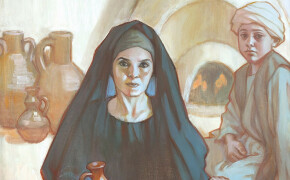 How dry is dry? Elijah predicted years in Israel (1 Kings 17.1) when there would be neither dew nor rain. (Now, that's pretty dry!) After this revelation to Ahab, God sent the prophet to a brook where he found water to drink. There, he was fed by ravens who brought him food day and night, but sometime later the brook dried up.
There are times of great supply and times when things are painfully sparse. Our sojourn is through hills and valleys. There are ups and downs, along with sunbeams and clouds. Both satisfaction and fear mark our experiences.
In the story told in 1 Kings 17, God sends Elijah from the withered stream and tells him to go at once to Zarephath of Sidon (a Phoenician city in modern day Lebanon). There, he would find a widow who would care for him. The famine was still far spread, and hope, like the brook, was running dry. Elijah had no obvious means to live. The account begins by making us keenly aware of Elijah's need for the widow, yet their introduction hardly seems promising.
As Elijah approaches Zarephath's village gates, he finds a widow gathering a few sticks. Calling to her, Elijah says, "Bring me a little water in a vessel, that I may drink." And as she was going to get it, he adds, "Bring me a morsel of bread in your hand." (17.10-11).
Whatever sort of prophet of God now stood before this widow, it was clearly not received as one with a hopeful message. She was a foreign, destitute widow who had encountered a prophet of Israel, yet this only seemed to contribute to her despair. Her response to Elijah is as dry as the stream he had just left behind. "As the LORD your God lives. I have nothing baked, only a handful of flour in a jar and a little oil in a jug. And now I am gathering a couple of sticks that I may go in and prepare it for myself and my son, that we may eat it and die." (v. 12).
By his simple request, Elijah seemed to be kicking someone already down. She was a widow with little hope and provisions. She was alone. She was marginalized by society in the midst of a severe famine. She had herself and her son to feed, and Elijah now had his hand out. As surely as Elijah's LORD lived, God must have seemed somewhat cruel.
Yet, whatever else this story tells us (see Jesus' remarks, Luke 4.24 ff), it reminds us that God's humble extravagance is present in the rough details and unlikely alliances of our own lives. In those parts on which we stub our toes, in the tragedies and experiences that hit us like 2 by 4 boards, God is somehow still near and giving. What Elijah and the ravens and the widow show us is that we live out our stories before a God who will feed us in times of famine, in times of feasting, in sickness and in health; a God who can take the mundane grind of the ordinary and show us the realm of the possible within it.
At every dry brook and low valley, God's presence invites us to live attentively, to unlikely but real gifts, to those who cross our paths, and to lame suggestions to follow, though we seem certain they are non-beneficial. Here is an alliance of a man and a woman with so very little to give each other practically, yet together they receive nothing less than daily sustenance, miraculously replenished by the God who brought them together in the first place. It is not always easy or easily recognized, and it may be quite humble. But, it is enough.
In fact, it is significant that Zarephath, the place God sent Elijah to find the widow and the widow to find Elijah, is a word that means "refining". For in the rough edges of three unlikely lives, hope was refined by the unlikely presence of the God who brought them together. Following Elijah's instructions, the widow took the flour and oil she had remaining and made three small cakes. Until the day the Lord brought rain once again to the land, her jar of flour was not used up, and her jug of oil did not run dry.
~Pastor Mullinax