Hymn-Singing Cannibals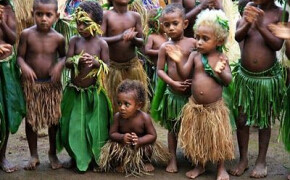 One wonders if the cutting-edge church of late-nineteenth-century Scotland could compete with the American church of today. In light of cultural change at 10,000 mbps, could the kilt-wearing Scottish kirk keep up? Sunday morning worship services led by Thomson, Chalmers, M'cheyne, Candlish, and Whyte, were filled with lots of words, lots of hymns (and lots of kilts), yet the missionary endeavors of men and women from these congregations are staggering.
There are historians in our church who know far more about this than I do. Dr. Bill Higgins is currently teaching on Scottish Christianity. However, I've recently been stirred by the 1889 autobiography of John Paton, Scottish missionary pioneer to the islanders of the New Hebrides, now Vanuatu.
John Paton grew up in a large stocking-manufacturing family in a very remote village on the southern coast of Scotland. His home-life was thoroughly remote and austere, yet gloriously Christ-centered. At the age of 34, after several years ministering to the poor of Glasgow, he moved to the South Pacific, church-planting first on the island of Tanna, and then the island of Aneityum.
Something that stands out to me is God working through the gospel in Scottish garb, as presented to a pre-literate culture of idolatry and cannibalism. Men and women on the island understand the gospel, come to faith, evangelize others, grow in sanctification, train for ministry, preach, and build-up the church body.
They enter this life through an historical Scottish worship service as found in Glasgow, including Sunday school. And they mature in this life, planting identical churches with historic Scottish worship and Sunday school.
Intriguing to me is that Paton says when newly-converted women would return home after one of these Scottish worship services, other women in their villages would seek to learn more about the gospel, but most men resisted. However, for some men, "...the only thing in which they showed a real interest was the children singing the little hymns which I had translated into their own Aniwan tongue, and which my wife had taught them to sing very sweetly and joyfully."
I know almost nothing about Paton's contemporary hymn writers like Horatius Bonar, Andrew Thomson, George Matheson, Robert Murray M'cheyne, and others, nor does Paton name the hymns that so impacted the Aniwan islanders. However, he tells us when these children came into the village singing them, "Nerwa at last got so interested that he came himself, and sat within earshot, and drank in the joyful sound. In a short time he drew so near that he could hear our preaching, and then began openly and regularly to attend the Church."
Imagine the picture: little theologians, cultivated in the life of the church, hearing the sermon and hymns in their own language (with a Scottish accent!), attending Sunday school, and returning home simply doing what children do, singing. And Nerwa, the most powerful chief of several neighboring villages, is converted. When, o when, will the Scottish kirk keep up?
~Pastor Jones