Our Mission Belongs to Him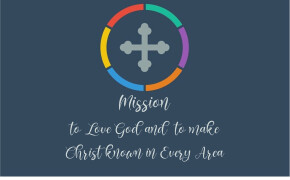 Isn't it strange to contemplate that your personal mission in life is actually not your personal mission in life?
What is a personal mission? It can be very helpful for us to make our way through life with a sense of objective, setting goals, making lists, working hard, finishing what we start, making deliberate adjustments, etc. Of course, some of us are planners (You know who you are.) and some of us are not (You know who you are, too!). Sometimes, our mission is helped along by more immediate needs (sub-missions, if you will), like finishing a degree, meeting expectations of an employer, or meeting personal and family needs. On some level, it matters to have a sense of mission in life. For helpful ways of discerning this, I recommend Tim Challies' little book, Do More Better, and Matt Perman's slightly larger book, What's Best Next.
Personal mission aside, keep in mind that, as a Christian, our personal missions can never truly be our mission. After all, we were bought with a price and, therefore, we can never be our own (1 Corinthians 6.20).
It is interesting that first-century followers of Jesus were sometimes called the "sect of the Nazarenes (Acts 24.5)" or "the Way (Acts 24.14, 22; 9.2)" or, later, "Christians (Acts 11.26; 26.28)". Each of these designations are centered upon Jesus, Himself. Jesus is the Nazarene in question, and Jesus is the self-designated Way (John 14.6; Hebrews 10.20). You may not know that the Greek title, Christianos, first used to describe the church in Antioch, literally means ones belonging to Christ. So, for instance, even long after his death, Roman followers of Cicero were called, Ciceronianus, "belonging to Cicero".
It is fitting, isn't it, that Revelation 22.4 says Christians have the name of Jesus on their foreheads! This is surely a part of what the Bible means when it says some 90 times that we are "in Christ," ten times that we are "in Jesus," and 60 times that we are "in Him". As Christians, having our life in Christ, everything we are belongs to Him.
The Bible teaches this in plain terms: "For what we proclaim is not ourselves, but Jesus Christ as Lord (2 Corinthians 4.5)". We might say that the very purpose of the Christian life is to elevate Jesus rather than self. We could even say that this is God's demand for every person. God, Himself, has said, "every knee shall bow and every tongue shall confess before Him (Isaiah 45.22)", and isn't the Bible clear that to do this is to bow at the name of Jesus (Philippians 2.10; 1 Peter 4.16)? We were made to worship in the name of Jesus, and even those who worship in any other name will yet behold the glory of Jesus when He gathers the world before Him, in judgment (Matthew 25.31-46).
There are several statements in the Bible that summarize the mission of Christ's church. There is the Great Commission (Matthew 28.19-20; Mark 16.15), along with other statements that sound like fitting missions for subjects of the One True King (Matthew 5.16; John 17.3; Philippians 1.21; Micah 6.8). Each of these are cohesively unified under the Reign of Jesus. At Covenant Presbyterian Church, our mission belongs to Jesus just as we, ourselves, belong to Him, and we articulate that mission in the following way: to love God and our neighbors by making Christ known, in all of life. Every facet of who we are, individually and corporately, should have Jesus at the center. This doesn't mean every person we meet will know automatically that we belong to Jesus. However, it does mean that, by God's grace, nobody we meet can justifiably say that we belong to ourselves. Belonging to Jesus, the message of our speech and our actions, our thinking and our doing, must never be centered on our own name (Colossians 3.17; 1 Corinthians 10.31). This is what it means to have a mission that is not our own mission.