Youth Fall Retreat Recap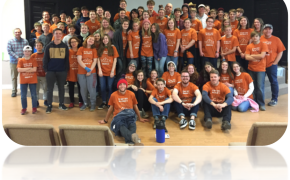 "Oh give thanks to the Lord, for he is good, for his steadfast love endures forever! Let the redeemed of the Lord say so, whom he has redeemed from trouble and gathered in from the lands, from the east and from the west, from the north and from the south."
Psalm 107.1-3
Last weekend, our youth ministry went on our annual Fall Retreat. We asked many of you to don bracelets with names of particular students and leaders and to pray for them throughout the week. Thank you so much to all of you who took part in covering our trip with prayer.
Psalm 107 gives us a beautiful command as the people of God. It says, "Let the redeemed of the Lord say so." Once redeemed, God's people are called to tell their story, a story that is really His story of redemption at work in us.
During Fall Retreat we had a wonderful opportunity to gather around the fire pit on Saturday night for a time of thanksgiving and worship. We called this time, "Say-So", and it was an open forum. Middle School students, High School students, leaders, and chaperones all took part. Our mission during this time was to worship Jesus in song and to worship Him through telling our stories. We asked students, "What's God been doing in your life this weekend?" or "What's God been doing in your life this year?" One thing became abundantly clear during Say-So: God has been doing a great many things in our midst.
The fire dances brilliantly and the stars above bear witness, but it's the testimony that we remember when we return home. These stories touch me deeply. We often get to see students reflect on a level that simply isn't possible in the helter-skelter of their weekly grind. A highlight this year was the sheer number of students who expressed deep thanks for one another. Ours is a youth ministry that is learning more and more to obey Christ's command to love one another. But, this growth is rooted in something greater. This year, we heard students testify to the reality of a Redeemer who loves His children. Student after student declaring that our God has been good to them in the midst of their joys and sorrows, and that His steadfast love is ever-present.
My hope is that the youth of our church may be an example for all of us. We might not need a crackling fire or the twang of a guitar to give thanks like this or to love like this. For many of us, it simply takes a moment of quiet and the knowledge that we have been redeemed to rejoice at the awesome grace of Jesus. Are we redeemed? Let us say so.
~Jeremiah Hill