Easter. Again.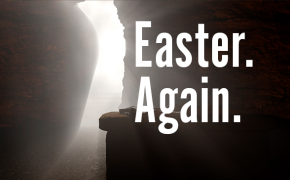 Easter is here. Again. It was here five years ago, too. And ten years ago. It does seem to keep coming.
I've been reading a short anthology of essays by people from the world of business; they mostly write about how to be business-y, better. It is not sparkling reading; every third page could be discarded without interrupting the flow. It is striking how much these authors talk about using time well. Yes, the hours of the day. They talk about daily ritual, morning routines, best time to eat, best time for meetings, taking time to meditate, when to multi-task (never!), debriefing the day, prepping for the next, and managing something called ultradian rhythm (I had to look it up). Effectiveness in the business world, apparently, has a lot to do with managing the work week.
Easter is here. Again. The Bible talks about time, a lot, and it seems to me that the again-ness of time, the repetition, is something that makes time so special. We're about to enter an Easter … routine.
Looking at time in the Bible, Andrew Hill of Wheaton College writes, morning was a time of prayer (Psalm 5.3; 88.13), sacrifice (Leviticus 6.12; 9:17), worship (1 Samuel 1.19), rejoicing (Psalm 30.5), and was eagerly awaited (Psalm 130.6) because it symbolized God's faithful love, mercy, and justice for His people (Psalm 90.14; 92.2; Isaiah 33.2). As each dawn brings a new day, so the morning reminded Israel of the freshness, reliability, and vastness of God's care for His people (Lamentations 3.23; Zephaniah 3.5) (ISBE 3.413). We might add work (Matthew 20.1; Ruth 2.7), training (Acts 28.23), and enlightenment (1 Corinthians 4.5; Genesis 19.27 -28).
Do your mornings seem mostly about coffee?
The late scholar Allen Myers writes that evenings (technically, from 2:30 to 5-ish) were about burnt offerings, cereal offerings (Exodus 29.39–41; Numbers 28.4ff.), the sacrifice of the Passover lambs (Exodus 12.6; Leviticus 23.5; Numbers 9.3-4), the incense offering, and lighting lamps in the holy places (Exodus 30:8). We might add prayer and reflection (Genesis 24.63; Mark 6.46; Matthew 14.23), rest (Matthew 21.17; Luke 24.29), and eating (Matthew 14.15).
Reflecting on these business essays, it seems a lot of executives can use a dose of biblical time. And that's just the point, isn't it? It shouldn't be surprising that the One who created time actually has an opinion about how His children ought to spend the hours. Reading these essays, I caught myself thinking about church history, namely the fourth century habit (based on the first century Jewish habit) of devoting fixed hours of the day to prayers on certain themes. This invariably included morning and evening prayers, prayers for the third, sixth, and ninth hours (9am, noon, 3pm), the Lord's Prayer offered three times per day, etc. The classic text is Ephesians 5.16: "Look carefully then how you walk, not as unwise but as wise, making the best use of the time, because the days are evil." In His mercy, God has given His children a sense of the timeless world to come nestled amidst the repetitive hours and seconds of this present age. Every hour, and every second, is a real gift from God. Even the repetition is a gift. In the Christian walk, time is worth using well.
Easter is here, thankfully, again. May I implore you to use the time well? Focus your Bible reading on the events of Holy Week. Think and meditate on the suffering of Jesus for your salvation, but also insert this theme into your morning and evening prayers, and your prayers before meals. Our pastors have put two special events on the calendar for us to be together as a family: Maundy Thursday (April 1) and Good Friday (April 2). Consider attending. Nonetheless, Easter is here, again.
Come December, in your reflections on 2021, you may be able to say that I devoted a week this year dwelling upon the gift of a Prophet, Priest, and King, God's own Son, who was willing to suffer for my timeless salvation.
Easter is here. Again.
~ Pastor Jones