HIGHLIGHTS OF OUR WOMEN'S MINISTRY
Bible studies and Book studies on Wednesday nights from September through May after the Midweek Meal.
Bible studies are held during the summer months.
Annual Spring and Fall Seminars or Retreats.
Other opportunities for fellowship such as a Spring Tea, a Christmas event, coffee groups, prayer groups, and more.
---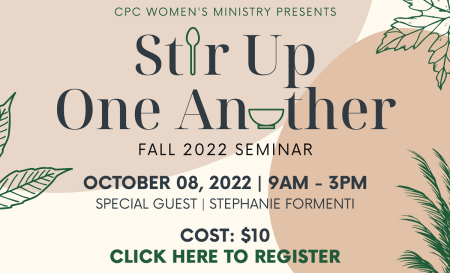 All ladies high school age and older, please join us for our Fall Seminar on Saturday, October 8. Special guest Stephanie Formenti will lead us in this active, hands-on study time. Stephanie is currently the Chapel Associate for Discipleship at Covenant College.
We will start at 9 am with a light breakfast and continue until 3 pm learning more about loving, even craving, God's Word. Registration begins September 18. The cost is $10 and includes all materials, light breakfast, yummy lunch, and fellowship time.
---
WOMEN'S BIBLE STUDIES AND FELLOWSHIP GROUPS
Click below for additional details...