The 2023 Spring Midweek semester will have 15 weeks from January 18 to May 10. There will be two breaks: March 1 for our Missions Conference and April 5 for Passion Week. We hope you will take the opportunity to join one of our class offerings for this Spring Midweek semester. Please contact the church office if you have any additional questions not covered in the listing of the classes. The image below gives a visual overview of the new Midweek schedule.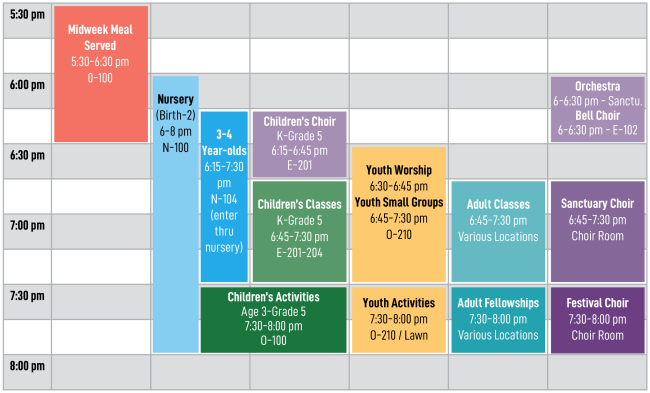 ~ click to enlarge ~
5:30 - 6:30 pm

Midweek Meal | Room O-100

Join us for a fellowship meal each Wednesday evening in the Fellowship Hall. View the current and upcoming menus on this page in the right margin.


Children's Opportunities
---
6:00 pm

Nursery | Room N-100

Nursery is available for Birth through two years old each Wednesday evening until 8:00 pm.

6:15 - 6:45 pm

Three & Four-Year-Olds | Room N-104 (enter through the Nursery)


Three & four-year-olds will play with a variety of age-appropriate toys and games and participate in a short bible lesson. They may enjoy music, prayer time, Scripture memory, crafts, games, and activities related to Bible lessons. until 7:30 pm when they join the other children's classes in O-100 (Fellowship Hall) for activities. Pick-up for all children (excluding the nursery) will be from 7:30 to 8:00 pm in the Fellowship Hall.

Children's Choir | Room E-201

Kindergarten through grade five will learn how to sing and read music. The Children's Choir will occasionally be incorporated into Sunday worship.

6:45 - 7:30 pm

Children's Classes | Rooms E-201-204


Kindergarten through grade five

will learn about how God intends us to live as full human beings, in our thoughts, emotions, and actions. Kindergarten – grade two

students will study stories from scripture that point us to the gospel, and

students grades three through five will look at examples of God's faithfulness in men and women throughout scripture and history. All children will work toward catechism and scripture memorization goals.

7:30 - 8:00 pm

Children's Activities | Room O-100

All ages will gather in the fellowship hall to participate in their choice of games and activities with their friends. They can also check out books from the library cart. All children should be picked up from the fellowship hall from

7:30 to 8:00 pm.


Youth opportunities
---
6:30 - 6:45 pm

Youth Worship | Room O-210

We start Wednesday night youth programs with worship. All youth, from grades six through twelve, gather for a time of singing and prayer before breaking out into small groups.

6:45 - 7:30 pm

Youth Small Groups | Room O-210

Youth small groups are designed so that students can ask questions and engage in meaningful conversations about how Scripture applies to their lives. It's a safe environment where students can be known and loved, and where they can pray for and encourage one another toward maturity in Christ. We have separate guys and girls small groups divided by grade level.

7:30 - 8:00 pm

Youth Activities | Room O-210 / Front Lawn

After the small group meetings, the youth will gather for various sports, games, and fellowship time. Friends and visitors are welcome to join us each Wednesday night!!


Adult Opportunities
---
6:00 - 6:30 pm

Orchestra | Sanctuary

Praise God with woodwinds, brass, strings, and percussion. You learned that instrument, now get it out and put it to praise!

Bell Choir | Room E-102

A surprisingly fun way to make beautiful music for worship. No experience is required.

6:45 - 7:30 pm

Manuscript Study of Matthew: Led by Jake Bennett | Room E-104

(New class location)




Join Pastor Jake and learn how to utilize a manuscript Bible study to learn how to read deeper into Scripture. Manuscripts are copies of a passage without verse numbers or chapter divisions. The class will focus primarily on how to study God's Word, using the Gospel of Matthew as the primary text. Together we will observe, interpret, and apply God's Word.

Men's Ironman Study: Led by Doug Frazier, John Herberich, and Jay Fowler | Room E-106

(New class location)

Men are invited to join us for a time of prayer and study. Scott Barber will facilitate a discussion on the book

Respectable Sins

by Jerry Bridges. The book looks at the question, "Have Christians lost a sense of the seriousness of sin by becoming so focused on major sins of our culture that we fail to address our own, more subtle sins?" Books will be made available during the first class meeting.

Prayer Group: Led by Doug McEachern and Eric Mullinax | Room O-104 & via Zoom

Join us for a time of prayer each week as we intercede for the various needs of our church body and individual members. You may join this prayer time in person or via Zoom. Please contact Ruth Fox at for a Zoom link.

Sanctuary Choir Rehearsal: Led by John Wykoff | Choir Room

Sanctuary Choir is a wonderful way to praise God and lead in worship. No audition or experience is required.

Temperament, Character, and Spiritual Gifts: Led by Dr. Lamar Allen | Room O-105

Dr. Allen is trained, and certified in temperament assessment. He has taught similar classes many times to churches, Christian organizations, faculty of the Air Force Academy, and leaders and managers of several corporations. Class material is based on Scripture, the Meyers-Briggs Type Indicator, and the Keirsey Temperament Sorter. Everyone is welcome. You may attend this class via Zoom, contact or for more information.
See video recordings and class notes below (Note: Videos will be available a few days after each class.)
7:30 - 8:00 pm

Festival Choir: Led by John Wykoff | Choir Room

If you only want to learn music for the upcoming special events, come at 7:30.

Adult Class Fellowships | Various Locations

Classes are encouraged to take advantage of this time for fellowship, prayer, and relationship-building.