Pandemic Lessons 101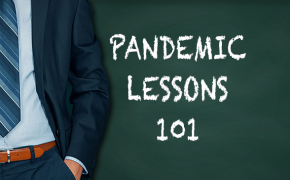 How are you processing the things you've witnessed about your own hearts? I don't think this is an easy philosophical and emotional challenge.
Many months ago I recommended that we all begin listing the things we have learned during the pandemic. Of course, all of us have been processing things witnessed in culture through the pandemic: local and national, celebrity and non-celebrity. And we've been processing political things: local, national, and global. Similarly, we have been processing things related to the church: CPC and other churches, nationwide and global.
How are you processing the things you've witnessed about your own hearts? I don't think this is an easy philosophical and emotional challenge. In a good-hearted effort to share, I present my own list of eighteen pensées, gathered and tweaked over the past ten months. I offer them in no particular order, without comment, with a varying degree of insight. They may be entirely unlike your own. Here we go:
Romans 14 is deeply practical today regarding mask-wearing and hand-sanitizing along with a myriad of other diverse opinions and habits that must be navigated with grace and love.
If shepherding requires real and sincere connection (it does!), then the work of an elder needs to deliberately and creatively extend beyond in-person contact in order to care for people where they are.
In a pandemic, personal habits that have endured many years can actually be brought to their knees and, in their place, brand new habits (desirable and undesirable) formed in their place with ease.
A pandemic has the power to put older generations in a mode of existence focused on maintaining physical health (which can be frightening). It also has the power to put young parents in a mode of existence focused on maintaining emotional health (which can be exhausting).
A utopian version of post-pandemic life is that renewed assembly will become a drink of fresh spring water that fills us with the divine, but a dystopian version is that renewed assembly illustrates about 40% of wasted energy that could be dialed back and replaced with technology.
Thoughtful and deliberate digital kinds of teaching, devotion, and connection really can provide surprising new ministry exposure and opportunities to serve.
For people who can admit that "scattered, distracted, and distant" is their default position (ahem, … most of us), they might finally see how regular assembly actually meets a deep creational need for healthy rhythm and harmony that sanctifies.
We ought not expect the world to totally understand in-person assembly as a critical element of human existence, even though this gets lots of press. There is at least a portion of our need to assemble that is deeply spiritual and revelatory, connected to our union with Christ, and not common to humankind.
The greatest nourishments to the church body, the most beautiful means of grace, are often those very things that appear to the world enormous marks of foolishness—real gathering, presence with God while with the saints, careful listening, and the pattern of liturgy come to mind.
Parachurch organizations can be immensely valuable in terms of scratching itches that the church cannot (like technological expertise, creativity, using varied gifts, global vision for impact). There are still itches that the parachurch must not scratch (online sacraments, pastoral counsel apart from community, church discipline, corporate worship).
The ministry of simple, physical, in-person presence with others, without the use of any words at all, is extraordinarily powerful. This wordless presence, engaged in serving others is more than extraordinary.
A universal pandemic handily reveals that it's not just non-Christians who struggle with the basics of family life: sitting down for a meal together, quiet meditation, prayer together, united spiritual focus, evening quiet time, reading, etc.
C. S. Lewis and the Bible are right: simple friendships within the church, difficult even in ordinary circumstances, are inestimably valuable (read Lewis on agape in The Four Loves, and 1 Samuel 18.1-3; Proverbs 17.17; John 15.14-15).
Technology, perhaps industrialized luxury in general, arouses and channels very powerful affection in the heart of Christians and non-Christians. Sometimes the disordered affections of the former look desperately similar to the latter.
Ecclesiastes is not a slow nasal-drip of philosophic doom and depression, but a grace-filled and motivational message of bold, thankful life under the sun, pandemic or no pandemic (see everywhere: Ecclesiastes 2.24-25; 3.12-13, 22; 11.1-4; 5.1; 8.15; 12.1).
With the addition of one single pandemic, we can rationalize ourselves to sit back and watch our sincerest hopes, wishes, and passions dissolve before our very eyes, without a fight. Stagger-ing.
A pandemic truncates many things, but there is an odd positivity in the shaping power of an emergency to the ministry of preaching. Preaching now must be immediately communicative, clear, cogent, applicable. Plain. Direct. To the point.
Strangely, for a vast majority of people, myself included, the ability to focus and deliberately concentrate, is actually hindered by boundless hours of free time, and awakened by deliberate use of a bounded number of finite minutes.