Sensitized for Lamentation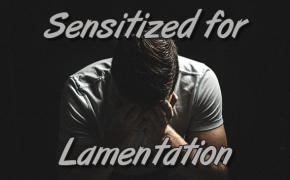 I suspect our age is not one for lamentation. We're more suited to frivolity and anger. Lamentation is sorrow, made expressive, through the cross...
Given the events of national, global, and local protests, I want to take a moment to share some of my own experience of what happened on May 25. Many of us are aware of a video in which an American man, presumed innocent until proven guilty, was killed by another American man, also presumed innocent until proven guilty. I am certain that your experience of seeing this video was not unlike my own. The immediate sense I had from the graphic image was one of exhaustion. I was, and remain, wearied by these images. However, the exhaustion was accompanied by surprise, sadness, anger, hurt, and frustration. The sorrow reminded me to pray for the families and friends of both men. The sorrow reminded me to look deeply at myself. Finally, the sorrow reminded me to praise the mighty King, Who alone carried the deepest sorrow (Isaiah 53.3-4), even as He came to rescue us.
We tend to grow accustomed to images of television and movie violence, and we tolerate these images in varying degrees. However, as I watched this video of a man presumed innocent until proven guilty, losing his life at the hands of another man (again, presumed innocent until proven guilty), I winced. I grimaced. An anesthesiologist is someone who, literally, unsensations a sensation; they remove it. I wanted the video to end (I only watched it once), but I didn't want the sensation to end. In a strange and irrational way, I wanted my nerve endings to bristle, if it meant I could truly feel and take in this event among two of my fellow countrymen, in my beloved country. I was sad, but I wanted to make sure the sadness was contemplated and directed. To ignore the sadness seemed its own atrocity.
A lamentation is a literary, or more likely musical, expression of sorrow. It is a kind of acknowledging, sensing, that all is not well, despite the smiles and Hallmark cards and multitude of diversions. I suspect our age is not one for lamentation. We're more suited to frivolity and anger. Lamentation is sorrow, made expressive, through the cross. Without the victory of the cross, lamentation is most often just anger. In the Ancient World, lamentation was done best by Christian men like Jeremiah, Ezekiel, Micah, Amos, and King David. When Stephen was martyred in the first century, Christians were already good at it (Luke 23.27; Acts 8.2). This makes sense because it is the Christian man and woman who knows their lamentation is temporary and purposeful, that receptors for sorrow will become receptors for joy, which is really what the sensing heart was made for in the first place (John 16.20).
Step back with me to consider something. The Christian believes what the Bible says about human nature in Adam, that we are indeed sinners by nature (Romans 5.12, 10-20; Ephesians 2.1-3). Is this not the one Christian doctrine that can be proved (says Cornelius Plantinga in Not the Way It's Supposed to Be: A Breviary of Sin)? As a Christian, it is a gift of God's grace to know who I am as a sinner and to suspect my own sin. Knowing myself as righteous in Christ empowers me to confess my sins before God (1 John 1.9). Knowing myself in Christ empowers my relationships with brothers and sisters in the church to be honest and beautiful (James 5.16).
Christianity involves paying careful attention to self (Acts 20.28), even the way we feel. To be slow to speak is to feel that urge to speak quickly (James 1.19). To be not easily offended is to feel that urge to get angry (Proverbs 19.11). To count others more significant than self is to feel that urge to be selfish (Philippians 2.3). This is common territory in the Christian life. I watched this video and my exposed nerve endings were sensitive and pricked to attention. Even though I know that a video never (never) tells the whole story, the Christian craft of self-sensing compelled me to consider if there is anything about myself on the screen. I was also compelled to ask why God, who is so loving, willingly entering such a place as this world. The un-anesthetized sensation of wincing became a lamentation acknowledging that something here is so dreadfully contrary to God's intention for human relationships.
Yet, for the Christian, the lamentation is never without hope. I know that, through His Word, by His Spirit, within the life of His church, God will use what His children sense to reveal more of Himself, remind them of His presence, and assure them of His never-failing purposes. He will equip us to make the beautiful Gospel known in a hurt and hurting world with the sincerest confidence, even as we lament. It is God's will and wisdom to draw to Himself a body from every nation, tribe, people, and language. And so, we sense. We cry out to God, and we lament. We can and must do this because, united to Jesus, we trust Him. For Jesus says to us, "Surely I am coming soon," and this arouses in His redeemed bride the deep groan: "Come, Lord Jesus (Revelation 22.20)."
~ Pastor Jones