Streaming Update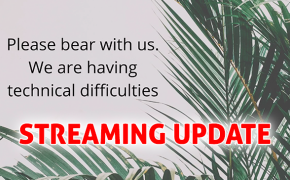 A couple of Sundays we've had difficulty broadcasting our live worship service...
Two of the last three weeks (5/3 and 5/17) we have had difficulty broadcasting our live worship service. It appeared that our hardware was working correctly. We have narrowed the challenges to either the church network or some of the limitations of our hardware. In the case of our church network, EBP has stated that they are fully operational from the tornado disaster. This may have caused issues on May 3, however. We have been working with our IT firm, ACT Business Machines, to identify the problem as well as improve the network and hardware to make our live stream the most reliable that we can.
Please know that we had not accounted for live streaming in our IT infrastructure at the beginning of 2020 nor in our budget preparation in 2019. We will be seeking to appropriate areas of our budget to allow for the proper technology to make live streaming more reliable. As with all technology we are humbled to need the Lord's help all the time…even to worship Him.
Thank you for your patience!