Two are Better than One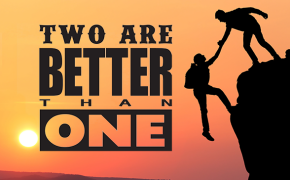 "Be watchful, stand firm in the faith, act like men, be strong." (1 Corinthians 16.13) This sentiment doesn't win any awards in our culture today. As a matter of fact, popular culture is seemingly more interested in dismantling this construct than supporting it. Society is constantly being bombarded through entertainment and the news media that men should more or less abdicate their traditional roles as strong leaders.
As believers, we know that these instructions are God's Word and will never be irrelevant as we strive to live Christ-like lives. So, how are we to glorify God and obey His commands in light of our current culture? Spiritual warfare is often mentioned in Scripture, and we are to be watchful and stand firm in our faith against the oppressive attacks of the Devil. Paul exhorts us to "act like men" (in a masculine manner) and to spiritually strengthen ourselves.
So, we're all good – be watchful, stand firm, act like men, be strong. Got it, Paul, thanks. However, that's not the conclusion of the thought. Paul follows this immediately with "Let all that you do be done in love." (1 Corinthians 16.14) Men, we are to be what Paul tells us in verse 13 in the context of everything being done in love. Earlier in the letter to the Corinthians (chapter 13), Paul says that love is patient and kind. It doesn't envy or brag, nor is it arrogant or rude, but it rejoices in the truth. The NIV says that love never fails.
We can take what Paul says about being men, standing firm and being strengthened in the light of doing everything in love, and can count on our lives pleasing the Lord. Easy, right? It's like hearing a mediocre golfer who just hit an amazing shot say, "This is an easy game!" Not so fast. We may have the recipe and instructions, but that doesn't make Paul's admonitions to us guys "easy." It is an incredible challenge to live godly lives today with everything pulling us the opposite direction. But the good news is this: it may not be easy, but we are equipped for the task at hand. We have the Holy Spirit residing in us to lead and strengthen us in truth. We have the Word of God to give guidance and instruction. We have the church to disciple us in worship and glorifying God. And, men, as a part of the church, we also have each other.
King Solomon says it like this: "Two are better than one, because they have a good reward for their toil. For if they fall, one will lift up his fellow. But woe to him who is alone when he falls and has not another to lift him up! And though a man might prevail against one who is alone, two will withstand him – a threefold cord is not easily broken." (Ecclesiastes 4.9-10, 12) You've often heard, "A man alone is in bad company."
CPC is blessed to have many outstanding ministries in our local body. Ministries for children, youth, women, music, and local and global outreach. We also have a ministry designed for the growth, discipleship, and community of men. Our Men's Ministry (MM) has been providing meaningful value to the men of our body for years. Many have participated in the MM leadership, and some of them have served for a long time. We are thankful for what has been done and for what will be done in the MM.
Covid-19, with its limitations, essentially caused the MM to push pause for a while. Now, we are looking to become active again and are eagerly looking to provide men with opportunities for Bible study, service, outreach, group events, and discipleship. We plan to continue our monthly Men's Breakfast, annual conferences, and retreats. Additionally, we will be gearing up weekly men's groups in various parts of the city and will be looking for men to take on inter-generational mentorship/discipleship relationships. We also desire to host fun, meaningful gatherings like grilling contests, fishing, golf, hiking, clay shooting, etc.
Our MM goal is to intentionally equip CPC men to live out 1 Corinthians 16.13-14. We are calling all men of CPC to get on board. Would you like to disciple someone? Do you feel like you need to be discipled? Are you looking for fellowship beyond Sundays? We want to hear from you and help you get involved!
Our 2021 Kickoff Event will be in May. We are planning something for you to enjoy (and find value in). Look for more information to follow soon. Until then, let me encourage you to "be watchful, stand firm in the faith, act like men, be strong. And, let all that you do be done in love."
~ Elder Todd Gaither