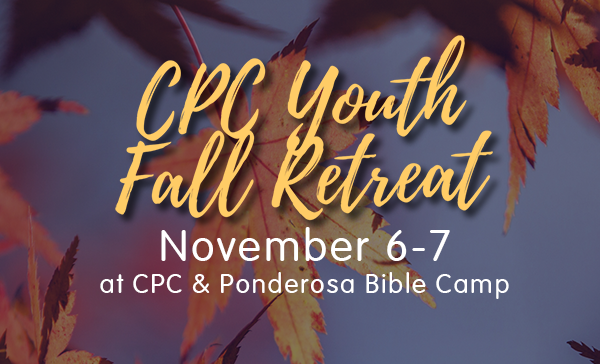 Friday, November 06, 2020, 6:00 PM - 9:00 PM
This year's retreat will not be overnight. We will meet Friday, November 6, from 6:00-9:00 p.m. at CPC.
On Saturday, November 7, we will eat breakfast at CPC at 8:30 a.m. and carpool to Ponderosa Bible Camp (1018 County Road 734, Mentone, AL 35984) at 9:30 a.m. Students can be picked up from PBC at 8 p.m. EST, or will be returned to CPC at 9 p.m. EST.
Cost: $30 (Scholarships Available) - Invite friends to come for free!
Things to bring:
Bible

Notebook

Pen/Pencil

Shower Towel, Shampoo, and Change of Clothes on Saturday (that you don't mind getting messy)

Jacket/Sweatshirt

Comfortable Shoes

Flashlight

A Friend!
Questions? Email Jeremiah at