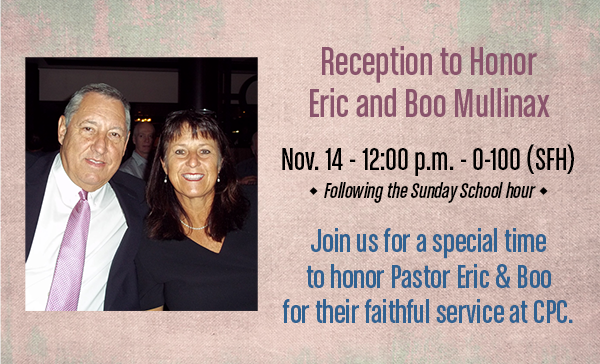 Sunday, November 14, 2021, 12:30 PM - 2:30 PM
Following our Sunday School hour, we are hosting a reception in Pastor Eric Mullinax's honor at CPC. Everyone is invited to thank and celebrate Pastor Eric and his wife Boo for their faithful work in ministry among us. Pastor Mullinax is retiring from full-time ministry and also from his over 20 year ministry here at Covenant. A place for cards and well wishes will be available.
We are grilling dogs and brats for the reception. The church is providing drinks and desserts as well. If you would like to bring a hot or cold side dish to share, please sign up and let us know what you plan to bring. Food should be dropped off that Sunday morning in a presentable serving dish. It can be kept warm if needed. Please mark your dish with your name and pick it up after the event!