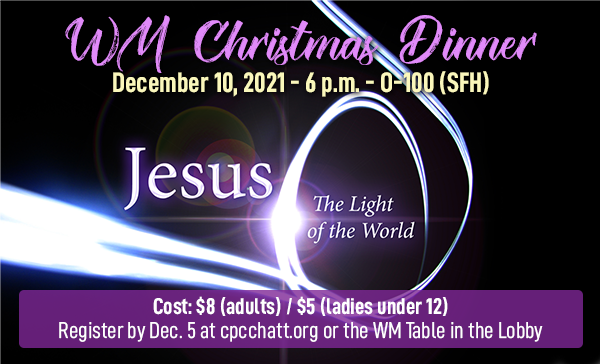 Friday, December 10, 2021, 6:30 PM - 9:00 PM
Ladies, mark your calendars and plan to attend our annual Christmas Dinner for CPC Women, families, and guests in O-100 (SFH). The theme this year is Jesus - The Light of the World. There will be a delicious dinner, wonderful program, and ministry focus. Register by December 5.
Registration/Hot Drinks and appetizers will begin at 6 p.m., followed by dinner at 6:30 p.m.
Our mission focus this year is Christine who serves with SIL, a ministry of Wycliffe Bible Translators. Her current focus is on scripture engagement within East African refugee camps. Everyone is asked to bring items to support this ministry of reaching refugees with the Word of God. Monetary donations are welcome as well.
This list of requested items (or similar items) are needed. A link for each item is provided to give further details or to use for purchasing: