Our regular Children's Ministry activities (Sunday School and Midweek) are suspended until January 2021.
Plan to join us this Fall for our Fall Family Fellowships: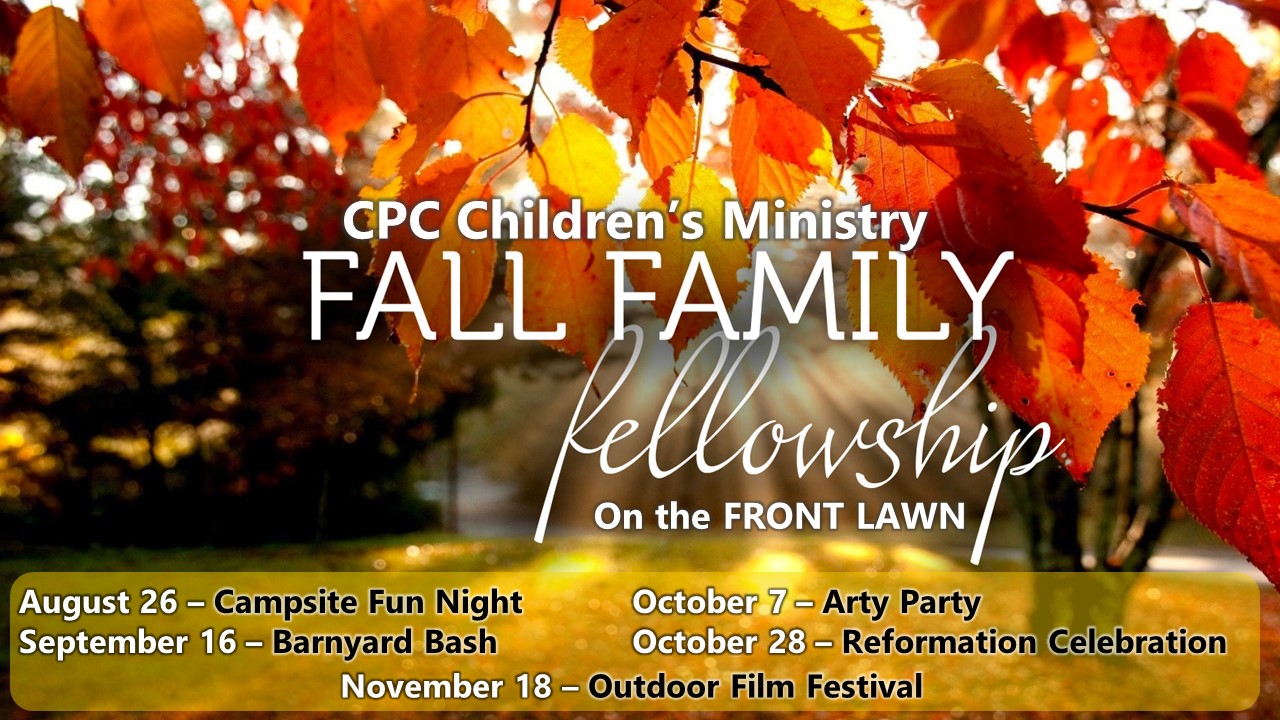 We are excited to begin offering some fellowship opportunities for children and their families on the Front Lawn of CPC. Weather depending, events are planned every three weeks, beginning August 26. Be sure to mark your calendars and plan to join us on the following days:
October 28 - Reformation Celebration
November 18 - Outdoor Film Festival
---
---
---
In January 2021, we plan to reinstate our regular ministry schedule as detailed below.
Our Children's Ministry organizes two primary ministries each week, Sunday mornings following the Worship Service and Midweek each Wednesday beginning at 6:15 p.m.

Our Sunday Morning Children's Ministry emphasizes learning and growth in Christ with scripture memorization, and catechism work. For information on specific curriculum, please contact our Children's Ministry Director Crystal Middleton.
Our Midweek Children's Ministry is divided into two sections. Beginning at 6:15 p.m. children ages 4 through Kindergarten (age 3 with a parent) are invited to the world of praising God through song by learning how to sing, what makes up music, and movement exercises to teach rhythmic understanding. Special programs will be presented twice a year.
At 6:15 p.m. Children in grades 1-5 are invited to learn musical concepts needed for reading and making music in order to praise God through song. For questions about the children's music ministry please email our Music and Worship Director Jeremy Gaines.
Beginning at 7:00 p.m. Children age 2 - grade 5 are welcome to join our Midweek discipleship groups.
Skippers – (Ages 2-3) "Hearing About God" The Skipper club introduces young children to God and the Bible.
Scooters – (Ages 4-K) "Learning About Living" The Scooter club introduces the concepts of building relationships, teamwork, and collaboration in Bible-based lessons.
Hikers – (Grades 1-2) and Adventurers – (Grades 3-5) "Exploring God's Word" The Hiker and Adventurer club explores the Bible and what it has to say about our relationships with Him, others, and His creation.
If attending choir before Club time, volunteers will escort children to their appropriate classroom. Parents can pick up Kindergarten age children and younger at 7:45 p.m. in their classroom, while older children will be released on their own.
Contact Crystal Middleton for more information on our Children's Midweek discipleship program.
---
In addition to our weekly Children's Ministry offerings, please check our church calendar for various Children's Ministry events throughout the year.