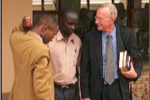 This Biblical concept summarizes the vision of African Bible University of Uganda. With unlimited opportunities opening so rapidly to the whole of Africa, the time is now for Christians to explore the implications of their faith for the whole of life.

What better framework for searching out God's wisdom for God's world could be found than a university-level institution that bases all its teachings on the belief that the Scriptures are God's infallible, inspired Word?
At African Bible University, every student majors in Biblical studies, but also has the opportunity to explore God's truth as it is manifest throughout His wondrous works of creation and redemption.
Background:
This unique educational institution is not new to Africa. The original vision for the college began in the hearts and minds of Dr. and Mrs. John W. Chinchen. After spending seven years training pastors in the interior of Liberia, the Chinchens realized the great need for colleges that would respond to the need of the increasing number of secondary school graduates in Africa. In 1975 the vision became reality when the first of the African Bible Colleges began in Liberia, West Africa. A second college opened in 1991 in the Central African country of Malawi. In due time, both of these colleges were recognized by the governments of their respective countries as accredited, university-level, degree-granting institutions.
Now the way has opened for the third of these Christ-committed colleges in the strategically located East African country of Uganda. From this vantage point, ABU Uganda offers quality education from a Christian perspective to the surrounding countries of Sudan, Central African Republic, Democratic Republic of the Congo, Rwanda, Burundi, Tanzania, Kenya and Ethiopia.
Ministry:
The chief aim of all institutions within African Bible Colleges, Inc. (ABC) is to train Christians in Africa for pastoral ministry, Christian service and leadership skills relevant to the continent.
Prayer Requests:
-For Dr. Palmer and Joanna Robertson's family and their leadership of ABU Uganda
-For Christian men and women who will transform Africa
-That God would supply student body, faculty, facilities, and finances
Website: https://www.abu.ac.ug/