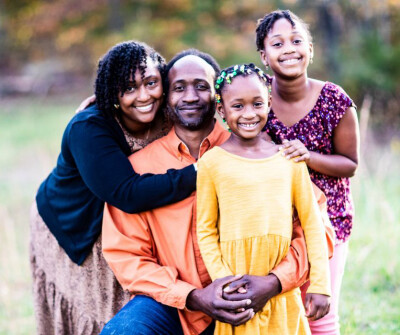 Serving With
CRU Chattanooga
Background
Aubry: He is the 11th of 12 children, born and raised in the Onion Bottom and South Chattanooga Housing Projects in a single-parent home. After practicing a season of dealing drugs and promiscuity, he received Christ in 1991 while watching Billy Graham on TV. He was intimately disciplined by two men who taught him how to be a student of God's word and how to share his faith. After completing his Bachelor's degree (Organizational Management) through Covenant College's Quest Program in 2003, he was challenged by a childhood friend to join Cru (formerly Campus Crusade for Christ) and return to his childhood community to rescue the lost.

Jerri: She was born and raised in Long Beach, California, in a single-parent home. In 1992, she surrendered to Christ. She graduated from Metropolitan State University (Denver) with a Bachelor's degree in Journalism. She relocated to Chattanooga in 2007 to explore something new. While working and teaching in public schools, and seeing broken families and hopelessness, she joined Cru in 2001.
They married in April 2009, and have two beautiful girls whose names are Aminah and Naarah. They all enjoy receiving guests, cooking, traveling, watching movies and food and comedy shows, biking, reading (Jerri), art (Naarah), and listening to a variety of music.
Ministry
CRU is a non-denominational outreach organization passionate about connecting people to Christ. Since 2004, Aubry and Jerri have been serving Howard School (Chattanooga) and reaching students with the Gospel and teaching them in group gatherings and through life-on-life discipling. In 2017, CRU asked them to lead a Gap Year Project consisting of international high school graduates to Ecuador and Uganda during the 2018-19 school year. After the Gap Year experience, God turned their hearts to the parents. By transitioning to CRU Family Life Local, they will continue serving the campus, but with the purpose of reaching and discipling both child and parent(s) with the Gospel.
Prayer Requests:

Help for Jerri with homeschooling their two girls
Landscaping needs - They need a play area for their kids to play in the backyard at their new residence, which is covered with poison ivy roots. They need someone to excavate and fill at a reasonable price
Fertility - that God would bless them with another healthy child through the Fertility Center which begins in the month of October
Support - God would continue to lead them to His people He's calling to partner with them financially. They need to raise around $3,000 monthly to reach their goal before starting their new role with Family Life
The transition process to Family Life - that God would sharpen their vision and mission as they prepare to start a new spiritual moment
Recruiting - They are trusting God to raise up 100+ God Chasers to partner with them to fulfill the Great Commission. Pray they hear God's voice and go where the Spirit is working in hearts
God would continue to bless their marriage and grow them closer together