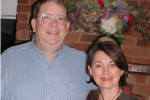 Serving with:
Mission to the World-South Africa
Background:
Bruce and Barbara grew up in neighboring towns in northern Illinois where they met in primary school. They became Christians through a campus ministry at college and married before their senior year. Bruce attended graduate school and then served in the Army Medical Service. To serve in missions, Bruce and Barbara studied at Covenant Theological Seminary, both graduating in 1998. During seminary God confirmed their desire through opportunities in England, Jordan, and Africa. Bruce and Barbara have been married for over 40 years and have two grown children. Joshua lives in August, GA and Beth lives in St. Louis, MO.
Ministry:
They have been with MTW since 1998, Bruce teaches at the Bible Institute of South Africa (BISA) and off campus he teaches African pastors. He co-ordinates MTW's theological education for the 11 countries of Southern Africa. In 2001 Barbara began Bible classes at a local primary school, Masiphumelele. She supervises volunteer African teachers in grades 1-8 which reaches over 1400 students. Barbara counsels and disciples BISA women students and wives of students. She also teaches Women in Ministry at the Bible Institute.
Prayer Requests:
-For wisdom and effectiveness in their leadership at BISA
-For Zimbabwean students and the difficulties in Zimbabwe
-For ministry opportunities beyond BISA, in public schools