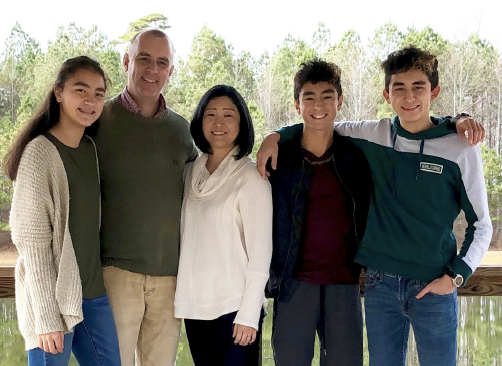 Serving With:
Equipping Leaders International
Background:
Dan and Mako met in Japan where Dan served for 8 years as a missionary (in various capacities with various agencies). After getting married, they returned to the States to attend seminary. Upon graduation, they moved to the Chattanooga area where Dan served as a pastor for close to 16 years. Dan continued to have a desire to serve the worldwide Church more directly. In 2019, the Lord provided the opportunity to invest full-time in training Christian leaders around the world with ELI.
Dan and Mako live in Flintstone, Georgia with their three children: Naoki, Tomoya, and Manami.
Ministry:
Dan and Mako Gilchrist serve with Equipping Leaders International (ELI). ELI partners with influential yet under-resourced Christian leaders from around the world to equip and multiply Biblically mature Christian leaders for every area of community life. Dan serves full-time with primary responsibility for three training partnerships in Ghana, Kenya, and Tanzania. He is also responsible to receive and process requests from prospective faculty members as well as Christian leaders seeking leadership training partnerships. In addition to her full-time responsibilities as a mother and registrar at a local school, Mako is responsible for ELI's social media communications on Facebook and Instagram (be sure to "Like Us"!).
Prayer Requests:
"Unless the Lord build the house," the Psalmist reminds us, "those who labor, labor in vain." Will you labor with us through prayer that our work with ELI in Christ's continuing mission will not be in vain:
That we would continue to grow individually and as a family in the grace and wisdom and character of Jesus;
That the Spirit would grant us the wisdom and skill necessary to faithfully serve one another, our neighbors, and our brothers and sisters around the world;
That Christ would be glorified as we promote His continuing work through ELI on its social media platforms;
That Christ would provide from among His people the staff and resources necessary to meet the many calls for help to equip and train Christian leaders.