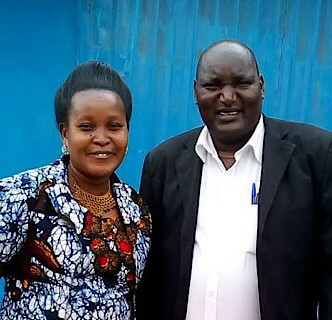 Serving With
Equipping Leaders International, Inc.
Background
"Since 2012, I have been training with Equipping Leaders International as a volunteer; we hold training seminars with native pastors of different denominations in Kenya and outside Kenya. The main aim is to empower native pastors with a Christ-centered Biblical worldview so that they acquire key leaders' knowledge and have confidence as they lead their churches. The follow-up is to Train Trainers from amongst the native pastors to keep the training going in their churches. This is in line with Paul's charge to Timothy "And the things you have heard me say in the presence of many witnesses entrust to reliable people who will also be qualified to teach others." (2 Timothy 2.2) (NIV). I have a passion and call to serve as a church planter and trainer of leaders in my native country." - Daniel Mathuva
Ministry
Daniel and Lydiah Mathuva works with Equipping Leaders International in his native Kenya, training and equipping church leaders. Daniel is an experienced Presbyterian pastor who has planted a number of churches in Kenya. Interestingly, Daniel was discipled by Stan Armes when Stan and Donna were missionaries in Kenya. CPC's support for Daniel derives from several of our mission's priorities – training national church leaders and supporting national missionaries. These foci enable CPC to leverage our support for a much greater impact on the global church. Nationals already know the language and culture where they are ministering, while their support needs are generally lower than Western missionaries.
Prayer Requests
IMMEDIATE NEED - There is a looming famine in the Eastern and Northern counties of Kenya. Many families are going without daily food. My prayer is to raise $1500 toward food relief.
Training In Uganda - continual training towards certification of 22 church leaders in Mbale, Uganda Pray that the leaders will complete the course and for God's provision for the cost of the training ($1050 per month).
Kenya - Thank God for the Marriage Seminar (which occurred in April near the coast south of Nairobi), the 50 couples who attended are requesting another seminar. Pray for God to provide the needed funds ($1500 per seminar).