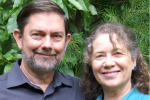 Serving With:
Third Millennium Ministries, Global
Background:
Gary grew up in Florida, the son of a PCA pastor.. A Covenant College grad, he also holds degrees from Covenant Seminary, Westminster Seminary and George Washington U. Phyllis grew up in a Christian home in Delaware. She attended Covenant College, Beebe Hospital School of Nursing and the University of Delaware. After receiving a B.S. in nursing she worked six years in a burn treatment center. Gary and Phyllis were married in 1981. They have four children: Micah (married to Stephanie), Seth, Andrea and Audrey.
Ministry:
The Waldeckers have been missionaries since 1980, having served 35 years with MTW. Now with Thirdmill they are aiding the mission in creating and providing seminary-level education in many different languages for free. Thirdmill recruited Gary because of his interest, experience, education and writings in the area of training people for ministry, especially in cross-cultural situations. Thirdmill realizes that just because millions of people are using their materials, it doesn't necessarily mean they are benefitting from them as they should. Gary's role in Thirdmill is to help people who are studying the courses make the appropriate application connections to ministry and life in their area of the world. This involves various responsibilities including communication with people all over the world, writing application guides and short trips to various parts of the world to promote what Gary has called "covenantal training."
Prayer Requests:
- For full levels of support.
- For Gary's websites and productive interaction with Thirdmill users globally.
- For a few key leaders who are using Thirdmill materials and the creation of a working paradigm for effective training in ministry.
- For new opportunities in South Africa, Nicaragua, Colombia and India.
- For the millions of people using Thirdmill materials. Pray that these people would, as a result, be increasingly effective in their ministry.