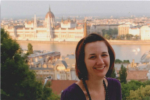 Serving with:
United World Mission at International Christian School, Budapest, Hungary
Background:
Heidi was born in Asheville, NC and grew up attending Covenant Reformed Presbyterian Church. She graduated from Covenant College in 2003. Her interest in special education started in high school when babysitting for a young boy who had Downs Syndrome. She had opportunities to work with special needs children while in college and her interest continued to grow. Heidi has been in Budapest, Hungary since 2004.
Ministry:
Heidi is a special education teacher at a Christian school that also accepts non-Christian students and students of other nationalities. Heidi's main reason for going to the school in Budapest was to be an educational shadow to children with learning disabilities. She now has many students she works with using the NILD (National Institute for Learning Development) program based in Norfolk, VA. The goal is to help students develop the weaker areas of their brains so that they can function in a standard classroom. She attends Calvary Church in Budapest where she worships and ministers with a multicultural, multilingual congregation. Heidie also leads Bible studies for young girls.
Prayer Requests:
-For her spiritual growth as a believer and missionary
-For her continued learning of the Hungarian language
-For her students and their families who are not Christians
-That God will provide other outreach opportunities to minister