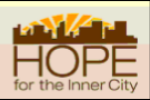 Staff:
Paul Green, Executive Director
Background:
Hope For Chattanooga (HFC) began as a 501c3 non-profit organization in 1997, but has roots in over 30 years of ministry by New City Fellowship (PCA). New City Fellowship is a multi-racial and multi-socioeconomic congregation located in the Glenwood neighborhood of Chattanooga. Working with New City, as well as other churches and agencies, HFC seeks true change in both the lives of individuals and of whole communities by applying the gospel of Jesus Christ to real life situations.
Ministry:
HFIC seeks to transform an individual holistically. Programs are designed to meet those fundamental human needs that lead to success as an individual and as a member of the community. Through the ministries of Neighborhood Outreach, Jobs Partnership, Harambee Housing Services and Lifting Hands Educational Development; and the renewing power of Christ, HFIC seeks to reconcile relationships and change lives by providing leadership development, economic stability, educational opportunities and affordable housing.
Prayer Requests:
-HFIC's strategic partnership with Inner-City Ministries
-HFIC's leadership in promoting a strong, unified mission and voice for meeting the needs of the inner city.
-Wisdom with respect to community transformation and a broader, more in-depth range of services
-Staffing and ministry financial concerns
-Stronger relationships with area churches