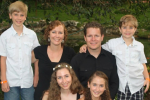 Serving With:
Background:
Jeff grew up in Arizona as a child of the Covenant. God's calling to cross-cultural ministry was confirmed through short-term mission trips in high school and a year of service with MTW in Chiba, Japan. Heather, from Atlanta, became a Christian through the witness of a friend in grade school. Jeff and Heather met at Covenant College where they were both involved in a ministry to inner-city children in Chattanooga. Jeff received his M.Div. at Covenant Seminary while serving as a youth pastor at a Korean-American church. Jeff was ordained in the PCA and served as an assistant pastor for five years at Heartland Community Church in Wichita, Kansas. In Wichita, he started an English as a second language outreach to Hispanics. The Vaughns worked for two years with BEAMM in El Paso/Juarez. The Vaughns have four children; Gracey, Betsy, Samuel and Elijah.
Ministry:
God has called the Vaughns to Costa Rica in response to an invitation from Costa Ricans who have asked MTW to help them establish a new reformed and Presbyterian denomination. They will be involved in training church leaders and influencing an emerging Presbytery.
Prayer Requests:
-For adequate support and children's adjustment in their schooling.
-For continued growth and leadership of the new church plants.
-For Jeff and Heather to continue to improve in their Spanish language and develop deeper relationships with the Costa Rica people.
-For children's adjustment in their schooling