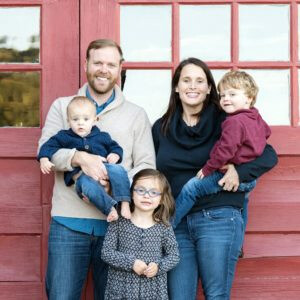 Serving With
Reformed University Fellowship - University of Chattanooga
Background
John Mark grew up in Tupelo, MS, and attended college at the University of Mississippi, where he studied History and English. He met Caroline at Covenant Theological Seminary where they were both attending and graduated with degrees. They both felt called to student ministry and pursued Reformed University Fellowship as well as opportunities with churches to serve in youth ministry. They moved to Chattanooga to be the campus minister for RUF at UTC in June 2014. The appeal of RUF for them centered on the ministry being connected to local churches and emphasizing the significance of involvement for students in college and post-college. They see RUF as an arm of the church on campus. RUF is also connected and interested in college students as a unique/formative demographic in their academic, emotional, social, and spiritual development. They are proactively meeting students where they are to embody the ethos, posture, and words of Jesus. John Mark is also a licensed and ordained Teaching Elder, which helps to thoughtfully, appropriately, and carefully connect Scripture to the lives of college students.
They have three children: Mary Margaret, Jack, and Sam.
Ministry
John Mark and Caroline have three avenues of ministry: large group, small group, and one-on-ones. They hold a weekly large group meeting of worship, preaching, and fellowship, usually on Wednesday nights. They have small groups throughout the week consisting of intentional Bible studies, book studies, and components of fellowship. They desire for students to connect to God and connect with each other, and view small groups as an effective way to facilitate meeting their goal of connection. They also have one-on-ones with students for side-by-side and face-to-face time together. Students are also being developed into leaders that have a task or play an instrument or pursue students relationally or give rides. They aim and have goals of reaching students for Christ and equipping them to serve so they are moving them towards fellowship and service, evangelism and mission, growth in grace, and a Biblical world and life view.
Prayer Requests:
Fundraising continues to be a concern. RUF is 100% support-based. They rely on the generosity of churches and individuals for funding.
They ask for prayer regarding getting physical and mental rest. The stress level of the ministry has been challenging.
They ask for good family time, protection, and the blessing of their family.