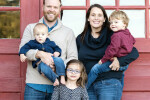 Reformed University Fellowship - University of Chattanooga
John Mark was born and raised in Northeast Mississippi. He graduated from the University of Mississippi where he studied History and English. Two years after graduation, he moved to seminary in St. Louis, MO to study at Covenant Theological Seminary. There he met and married Caroline Lamberth, who was also attending Covenant. Both earned graduate degrees and moved to Chattanooga to partner in campus minister for RUF at UTC.

The Scruggs have three fun and busy children - Mary Margaret, Jack, and Sam. John Mark enjoys long dinners, family walks, impromptu dance parties with his kids, reading, exploring bookstores, and meeting others at coffee shops in Chattanooga.