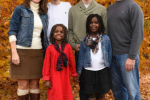 Serving with:
Reformed University Fellowship International at UT-Knoxville
Background:
Lee and Jennifer both grew up in the Knoxville area. They married in 1997 after meeting at UT through the ministry of Reformed University Fellowship (RUF). Lee later graduated from Covenant Theological Seminary (St. Louis) with a Master's in Divinity. God led them into cross-cultural ministry during 2005-2006 as they served along with their two boys, Daniel and Phillip, in Romania with Mission to the World. Most recently Lee has worked with Redeemer Church of Knoxville, and as director of RUF's ministry particularly to international students at UT. The Leadbetters have adopted two Haitian sisters (AnneDina & Neissa).
Ministry:
The Leadbetters direct the ministry to more than 1100 international students at the UT-Knoxville campus. RUF-I is global missions on a US campus! It's their belief (and ours as supporting partners) that God desires people from every nation, people and language, to come to know Jesus Christ as the sum and substance of true religion and the answer to mankind's deepest need. RUF-I seeks to serve international students and scholars at UT with the love and hospitality of Christ, and to sensitively engage them with authentic Christianity, in order that their lives, families, and home communities might be transformed by the Gospel of grace.
Prayer Requests:
-For God's wisdom and enablement in this unique ministry to internationals
-For increased financial support and greater church relations with RUF-International
-For our family's spiritual health, love for Christ, and delight in service
-For children's well being (Daniel, Phillip, Annie, and Neissa).