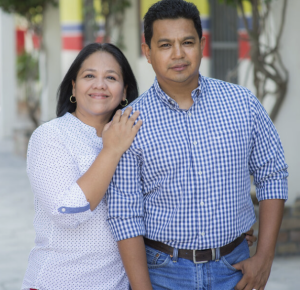 Serving With
Background
Mario and Keila met during their last year of high school in Tampico, Tamaulipas, Mexico, and married in 1996. In 1998, he was hired by LG as an engineer in computer science and they moved to the border city of Reynosa. From 2007 to 2016 Mario was an IT manager and overseer of four local plants for an automotive company. In 2012 they felt a strong calling to share the Gospel with more people and they planted a church in Reynosa called Camino de Fe.
Ministry
Mario leads the spiritual oversight for the ministry, teachers, staff, and community center and also continues to pastor the Camino de Fe Church. Keila organizes community outreach, ministers to young women, and leads a tutoring program in the Aquiles Serdán neighborhood which surrounds the mission. They desire to see a church planted in this same community.
Prayer Requests
Pray for Camino de Fe church in Reynosa, for the Bible study group that is meeting in our Aquiles Serdán neighborhood, and for the Isaiah 55 ministry with youth and children.
Pray for the three young Mexican men currently in ministry apprenticeship with Camino de Fe.