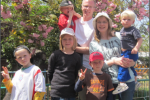 Serving with:
World Evangelization for Christ (WEC) in Japan
Background:
Matt was born and raised by missionary parents in Japan. He received his M.Div. degree from Reformed Theological Seminary in 2008. He has 11 years of teaching and preaching experience in various inner-city ministries in South Philadelphia, PA including deacon, youth leader, and Sunday School superintendent. Annette is a family nurse practitioner with 13 years experience in Hispanic inner-city settings, including some time in Central America. Both did a year of missionary internship in Japan 2008-2009. Matt and Annette have five children: Karissa, Ethan, Paul, Noah, and John.
Ministry:
Matt and Annette will be involved in evangelism and church planting in Japan. Their fluency in languages and previous ministry experience will aid them greatly. Their base initially is in Ritto (near Kyoto). WEC has asked Matt to temporarily pastor the one church in Ritto since they have no pastor. Annette will focus on learning Japanese and managing their household.
Prayer Requests:
-For transition to life in Japan-they arrived in September 2013
-For spiritual preparation as missionaries
-For wisdom regarding their children's education
-For the hearts of the Japanese to be touched by the Gospel