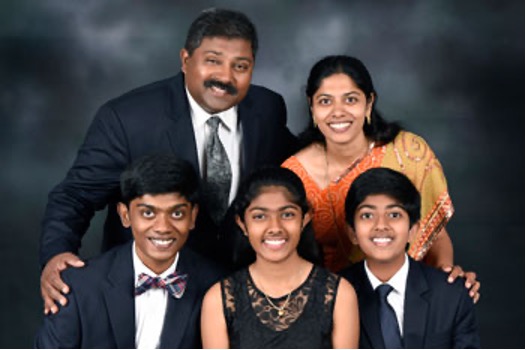 Paul Billy & Shirley Arnold (Jesudhas, Elsie, Joseph)
Serving with: Presbyterian Mission International
Ministry Area: South India
Responsibilities: Church Planting
Email Address:
Background:
Paul Billy graduated from Covenant Seminary in 1993 with an M.Div. and returned to India to pioneer the Reformed church planting ministry in southern India.
Ministry:
God enabled the planting of Bangalore Presbyterian Church in 1994 and Panruti Presbyterian Church in 2003. Teams are being prepared to plant three additional churches. COVID hads slowed efforts, as India is greatly effected by the pandemic. Paul Billy and his father teach national pastors and evangelists who have no formal theological training.
Reaching out to the children living on the streets of Bangalore led the Arnolds to open a "drop in" facility and a home for the children.
Prayer Requests:
Praise for Paul Billy's fruitful trip to USA early in 2020 and his safe return to India before travel restrictions
Praise for eldest son's (Jesudhas) engagement to Michaela
God's gracious undergirding in trying times in India
Smooth shift to ministry online for Bangalore Pres Church
Many churches started by Presbyterian Church Planting Network are struggling in the present country wide lockdown