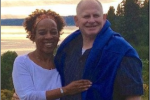 Serving with:
Background:
Randy, who came from a home broken by divorce, was raised in the inner-city housing projects of Newark, New Jersey. This was during a time when Newark was a racially divided and hostile city. Fortunately, Randy's family found a church that practiced mercy ministry. After giving his life to Christ, Randy was discipled by the church pastor and learned street and personal evangelism. It was during this time that Randy started dating Joan, his future wife. Randy attended Covenant College and became a pastor. He has spent his life teaching, preaching and evangelizing. His church, New City Fellowship, in Chattanooga, TN, became a model for cross-cultural, inner-city churches. Randy also served as a Chaplain for the Army Reserves, serving in Saudi Arabia, Kuwait and Iraq. He has been a missionary to Kenya and worked in prison ministry. Randy is now the Pastor Emeritus at New City Fellowship since he began serving as a missionary full-time with The New City Network in 2012. Joan has labored alongside Randy throughout the years and is a teacher in her own right. They have four children.
Ministry:
The goal of The New City Network, a subsidiary of the PCA's Mission to North America (MNA), is to reinforce existing inner-city churches by training or to establish inner-city churches where needed. The focus will be on cross-cultural and mercy ministries, racial reconciliation and economic-community development. Randy's and Joan's backgrounds have matched them well for this missionary endeavor. Randy has been appointed as the Urban and Mercy Ministries Coordinator for The New City Network.
Prayer Requests:
-Fund raising for church planting funds and support
-Organization and administrative apparatus to build and hold the Network together
-Communication and media streams to publicize, educate, train and solidify the Network
-Strength, wisdom and safety for Randy and Joan as they travel, visit churches, train others and write for the Network.