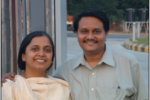 Serving With:
Background:
After years of ministry among lepers in India, Drs Sujai & Lavanya Suneetha responded to God's call to minister to those infected and affected by HIV/AIDS (India's lowest "caste"). Under the Suneethas' dedicated and capable leadership, Nireekshana started in June of 2004 in a small way as an out-patient based clinic in the front rooms of their home. [Seed money from CPC's Ministry Expansion Fund was used to help launch the ministry.] Nireekshana quickly outgrew the home. Now in several satellite clinics in Hyderabad and the state of Andhra Pradesh, Nireekshana caters to the needs of thousands of individuals and families.
Ministry:
Nireekshana ACET (AIDS Care, Education & Treatment) is a community, Christian based organization dedicated to the compassionate care and support of people living with HIV/AIDS using a holistic approach. Nireekshana's work is based in the medical clinics and in community outreach. It's key work focus is on providing counseling, training, medical, socio-economic, spiritual care and support.
Prayer Requests:
-That Nireekshana would truly be as the name literally means "A place of hope".
-That the Suneethas would be strengthened in their particular leadership roles.
-That God might supply the resources (financial, dedicated personnel, facilities) to continue this ministry.