Sharing General Assembly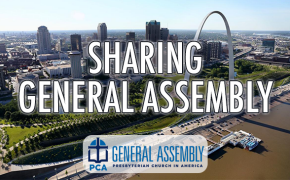 Thank you for sending me to our General Assembly meeting in St. Louis...I wanted to share with you a few of my own impressions, even as Assembly summaries will be published by many in the coming days.
Pastors are elders, and elders are elders. Got it? In the Presbyterian Church in America (PCA), elders are distinguished between teaching elders (who are pastors) and ruling elders (elders in the local church). Teaching elders are examined and ordained by groups of PCA churches in a geographic region called, presbyteries, of which there are 88 in the denomination. Ours is the Tennessee Valley Presbytery. A ruling elder is examined and ordained by local congregations. Teaching elders and ruling elders hold equal authority in the PCA, one of the notable marks of our flavor of Presbyterianism.
When elders come together at presbytery meetings, they exercise authority over the various congregations in their presbytery. And when elders come together at the annual General Assembly meeting, they exercise authority over the 88 presbyteries in the denomination. Clear as mud? You can learn more here.
Thank you for sending me to our General Assembly meeting in St. Louis, along with teaching elder Jake Bennett and ruling elder Adam Sanders. Thank you for praying for us and our denomination. This meeting saw a record number of commissioners (PCA elders who registered): more than 2,000. This figure is made up of more than 900 ruling elders, which is a record attendance. In addition, this meeting saw a record ratio of ruling elders to teaching elders (29%). This is very significant. While ruling elders and teaching elders hold equal authority, teaching elders attend General Assembly in larger numbers and hold more sway, for which our form of church government is actually weakened. Keep in mind that ruling elders make enormous sacrifices to attend General Assembly; many not only have to step away from work, but they also have to spend precious vacation time. Any rise in ruling elder attendance is a sign of health for the PCA.
I wanted to share with you a few of my own impressions, even as Assembly summaries will be published by many in the coming days. Keep an eye on byFaith Magazine for more. I'll begin by saying that this General Assembly felt relationally overdue. What I mean by that is that elders missed being together. There was an air of happy communion despite the seriousness of the topics at hand as men seemed to acknowledge in their tone that it has been a long time since we have been together. I enjoyed this assembly and have returned to you refreshed and encouraged.
Below are a few items of note.
There was no doubt that human sexuality would occupy a large portion of the 2021 Assembly. In 2018 our denomination referred to our guide for public worship (see here) in order to reiterate that Scripture teaches that marriage is between one man and one woman. In 2019 we commended the Nashville Statement (here) as a biblically faithful statement. At this General Assembly the denomination commended a report ominously titled, Ad Interim Committee Report on Human Sexuality. It was written by PCA scholars and introduced by Tim Keller and Kevin DeYoung via video, owing to Pastor Keller's health (see here). You can watch Tim and Kevin's presentation of the report (beginning at 2:05:43).
There is no doubt that this report will be heralded by conservative Evangelicals worldwide for its fidelity to Holy Scripture informing both pastoral concern and heartfelt apologetic. For instance, "we must present 'the whole Christ' when we both pastor individuals and speak to the world about sexuality and gender today. Jesus is full of grace and truth. In pastoral care we must not apply the truth so harshly as to be callously alienating or so indirectly that the truth is never clearly grasped." Pursuing this pastoral and apologetic task, rooting both in Scripture, they summarize our denomination's position with twelve statements that you will see on our website in the coming days. Don't be dismayed by the length of 60 pages. The report also includes a full bibliography as well as carefully footnoted interaction with theologians of the Protestant Reformation. The report will be printed in book form by the denomination, and we will make it available in the Welcome Center.
In addition, two overtures (proposals) sought to refine the language of our Book of Church Order (sort of an Owner's Manual of the PCA) regarding how elders ought to assess biblical qualifications for elder and deacon candidates. This particularly concerns when a man shares that he experiences same sex attraction. By a large margin, the Assembly approved a change (see amended overture 37) that would require "careful attention" be given to a candidate's "practical struggle against sinful actions, as well as to persistent sinful desires" and that "he must not be known by reputation or self-profession according to his remaining sinfulness." Also approved by a large margin was change (see amended overture 23) stating that "men who are known by reputation or self-profession according to their remaining sinfulness (such as, but not limited to, same sex attraction, same sex desire, and homosexuality) shall be deemed not qualified to hold office in the Presbyterian Church in America." Both of these changes to the Book of Church Order will need to be ratified by two thirds of the presbyteries and then voted by simple majority at the meeting in 2022 in Birmingham, Alabama.
These changes represent a significant confirmation of our denomination's will to be a body faithful to the Scriptures, true to the Reformed faith, and obedient to the Great Commission (as a refresher, on Sunday note these words engraved in stone outside the sanctuary). Combined with the careful and thoughtful explication of Scripture in the Report on Human Sexuality, these votes of the Assembly came with very little disharmony.
On other matters, in a rather close vote an overture was approved to adjust the Mission to the World (MTW) handbook, a document used by our missionaries. The change seeks to ensure that teams on the mission field would not be composed in such a way that a non-ordained leader would serve in a position of authority over ordained leadership (read overture 14). There was robust debate on this topic and I have been told that this vote will likely involve significant restructuring of MTW teams and staff.
There are many other items. A former president of Covenant Seminary, Bryan Chapell, was elected to serve as the clerk of the PCA, replacing Roy Taylor (see here). The Assembly opened with a panel discussion on the future of the PCA which was very encouraging (summarized here). Anti-Asian racism was repudiated with a short statement which can be found at the bottom of overture 48 from one of our Korean presbyteries. The Assembly refused to appoint separate committees to study white supremacy, biblical ethics of digital media, and Critical Race Theory (CRT). Covenant Theological Seminary, my alma mater, has a new president, Tom Gibbs of Redeemer San Antonio, to replace outgoing president Mark Dalbey as he enters retirement. You can read more about Tom here. Again, keep visiting byFaith Magazine for the latest.
Please hear how thankful I am to be a part of the PCA, how thankful I am to be a pastor of this congregation, and how thankful I am to the Tennessee Valley Presbytery for planting this church through the leadership of our Pastor Emeritus, Dr. Render Caines. Neither our denomination, nor our presbytery, nor our congregation is perfect. We have work to do. But, having just listened to PCA teaching elder, Julius Kim, on the importance of weakness in our witness, the Bible tells us that our calling is to be faithful heralds of God's truth in God's world, as the foolish and weak who boast not in themselves, but in the one and only King, Jesus (1 Corinthians 1.26-31).